Marion Smith Designs
Paper crafting artist extraordinaire Marion Smith's fabulous blog!!
Sketchy Thursdays
A weekly sketch challenge site. Every week a winner is randomly selected from those who play to receive a scrappy prize from any number of Etsy sellers and scrapbook stores.
These are a Few of My Favorite Things
Julie and the gang are always issuing fun challenges for great prizes!
Dear Lizzy - Elizabeth Kartchner
We love the cute, girly and inspiring layouts that Liz creates and we are so excited to be carrying her products now!
Ali Edwards
Known for her focus on words + photos, her creativity never fails to inspire us!
Pioneer Woman
If you haven't been to Ree Drummond's, you are totally missing out!! We love her food, her photos and her stories (especially Black Heels to Tractor Wheels)!!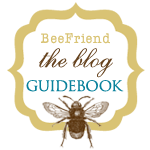 We love checking out and finding fabulous new blogs to visit here and reading their great bloggy advice! Go check out
The Blog Guidebook
!
Stay tuned as we begin to update and add even more fabulous sites we love to visit!!